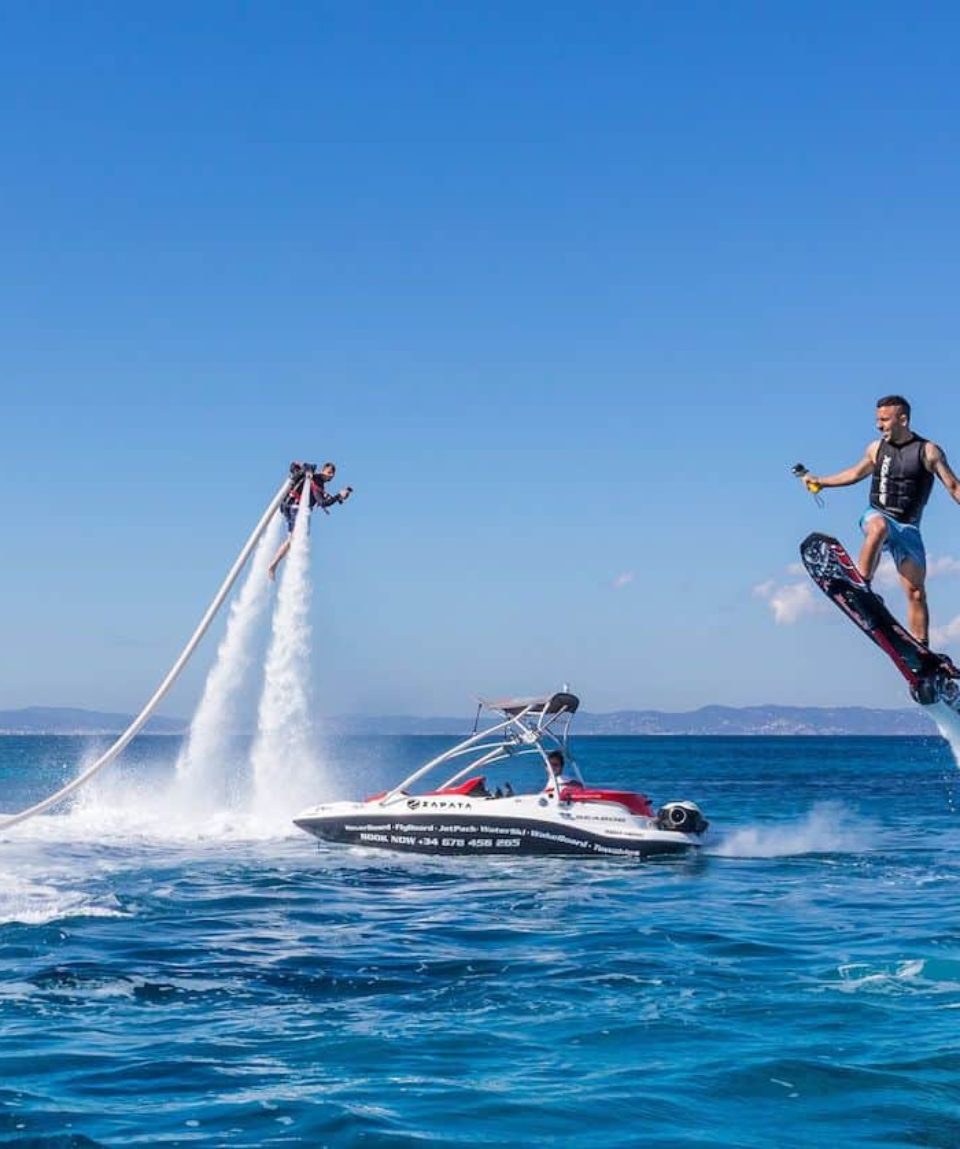 FLYBOARD JETPACK
From: 90 €
All about the FLYBOARD JETPACK.
Until then, flying was a dream and a gift to birds. Futuristic creations, each more elaborate than the next, all available from our trusted partner.
Flyboard :
The Flyboard is a type of nautical reactor connected to a Jet ski that provides water under pressure. Sessions last 30 mins including 10 minutes of preparation. Put on the pair of boots in the way of the snowboards and let yourself be carried by the water under pressure which gives you a push and allows you to climb up to fifteen meters in the air or plunge head first in the water like a dolphin in the ocean.
Jetpack :
The Jet Pack shares the same principle as the Flyboard except that the reactor is dorsal. This machine allows you to take off several meters high giving you the impression of flying. Your arms direct your direction by orienting the Jetpack.
Hoverboard :
The Water Hoverboard is a new water sports device, it is the combination of wakeboard and other propulsion devices described above. The propeller being located under the board of the Hoverboard. A kind of flying surfing, to begin with your instructor will assist you and manage the power according to your skill level. Once you are comfortable on the device, the instructor will help you learn new techniques such as spinning and lateral flip. These water sports professionals will be there to accompany you throughout your sensational experience.
The tour package inclusions and exclusions at a glance
What is included in this tour?
Items that are included in the cost of tour price.
Flyboard and equipment.
A professional French/English speaking team
Bottles of water
Free parking
Ability to keep your things
Bathroom Restaurants nearby
Your photos and videos
Departure from Searide Dubai – Jumeirah #1 Fisching Harbor